Holiday Cheer Event, November 29th – December 18th! Check out the details below!
At Guys & Gals Quarters, we have a team of experienced professionals that will work closely with you, providing a seasoned opinion and the expertise to deliver the perfect hair.
In addition to beautiful hair, we offer a range of spa services. Visit our esthetic team for a skilled massage, cleansing facial, or mani-pedi to ensure your whole body feels the love.
Promotions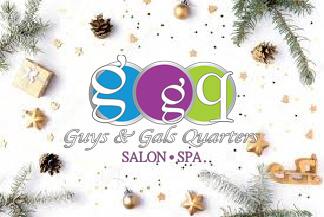 We invite you to our Holiday Cheer Event, November 29 – December 18!
Holiday Basket Giveaway! Multiple themed baskets and many ways to earn chances!
25% off all Retail
Purchase a $100 gift card, receive a Free $25 "Retail Only" gift certificate (Limit 1 per purchase, Valid Dec. 20 – April 20)
Daily Door Prizes ($40 value)
Free Client gift bags, while supplies last! ($70 value)
Holiday Spa Packages!
2 Dermaplane Facials $175
2 Massages & Custom Stress Relief Sessions $175
Spa Manicure & Spa Pedicure $68 (add $10 for shellac)
Procell Microchanneling Buy 3 get 1 Free! $825 (save $275)
We hope you can join us, November 29 – December 18 at 22 Saratoga Drive in Batesville!
Kind Words From Our Clients
Kara is the best! She always does a perfect job and I leave feeling like a new person!
Mandy always does a great job with my nails. She takes her time and they always turn out great!
I never had a massage before and this was an awesome experience. The hot towels were exactly that…HOT and I loved it. Thanks Mary!
Guys & Gals is where I can get all of my stress relieved! From manicures, pedicures and getting my hair done it's all a treat!
Elizabeth is awesome and the only one who has touched my hair for at least the last ten years! That should say it all!
Love the color that Cindy applied on my hair at my appointment. My hair is shiny, soft and it looks like I have a little bit of highlights.
I have been going to Guys & Gals for at least 10 years. Bridget is so delightful and everyone is very helpful and friendly!
Been a customer for 35 years! Very nice people.
This place is great! All of the employees are very friendly, and the experience is definitely worth it. I always feel pampered when I go to my appointment.
Have had hair cut and color, manicure and pedicure services. Always a lovely experience!
I love this place. They did a great job on my makeup and my hair for my wedding day!!!